Saving St. Annes Church & Memorial Hall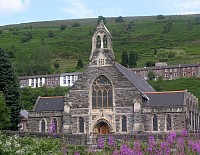 Get Your Will Written and Help Save St Anne's Church
  Most people know they should write a will but sadly never get around to doing it. Now you can help save St Anne's Church while sorting your estate planning out and writing or revising your Will.

AMIFA Limited, based in Hannah Street, PORTH will donate £25 for each Will written by us. In addition, we will also donate an extra £50 for every 20 Wills written.

Plus to top it off once we get to 100 Wills there will be an additional £100 donated. There's never been a better time to write your Will.

Already have a Will? We offer a FREE Will review service. Maybe you have some new grandchildren since you wrote your Will or maybe your circumstances have changed through divorce, death or acrimony. We can review your Will and let you know if it still does what you want it to do.  
We also arrange Lasting Powers of Attorney (LPA's) and Trusts.
Check our prices below.
Prices correct at 10th August 2020
Standard Will            £95
Set of 'Mirror' Wills  £155  A Will each for couples where executors &                                                     distribution of estate are the same
Single Power of Attorney   £250
Pair of Powers of Attorney £350 - Property & Financial and Health &                                                                  Welfare LPA's
Couples Full set LPA's         £500 - 2 sets of the above for couples at same                                                         address and with same attorneys
Trusts - priced individually
Payment can be cash, cheque or card
AMIFA Limited
(Financial & Legal Services)
73 Hannah Street PORTH CF39 9PY
Tel: 01443 684007  Mob: 07861216474 Email: info@amifa.com